You shouldn't be surprised to know that there are more than 2.20 billion monthly active users on Facebook. It is actually 13% increase year over year. Since most of them also use the messenger app, the Facebook messenger chatbot has soon become one of the primary marketing channels for most of the businesses.
World average open rate of emails is 16-20 %. This goes all up to 70-80% with Facebook messenger broadcasts. While emails are still the biggest marketing asset for a company, the instant results and higher conversion rates of messenger bots make it the must-have marketing channel for the present and the future.
Today I am going to talk about one such tool that is developed with an aim to make your entry into the messenger marketing world smooth and easy.
MobileMonkey is a platform for Marketers to create, manage and promote their brands with Facebook based AI Chatbots. Founded by Larry Kim, #8 most popular author on Medium and the founder of WordStream. MobileMonkey allows users to build a fully-functioning chatbot for Facebook messenger without any coding knowledge.
AppSumo has recently launched a lifetime deal on MobileMonkey Professional Plan for $49. In this post, we have gathered all essential insightful information that will help you make the right decision on whether you should buy this deal or not.
But before we go into the details, here are the key points about this AppSumo deal.
What's the deal?
Get lifetime access to $42/month Mobile Monkey Pro plan just for $49 one-time payment only.
Summary ( TL;DR,)
Being just a year old, this chatbot startup seems very promising in terms of features and functionalities. Founded by Larry Kim, the owner of world largest PPC software company and with $3.4M funding, MobileMonkey surely has the potential to compete with other established chatbot platforms.
UI & design wise, MobileMonkey may not look very elegant or professional but it surely possesses strong functional capabilities inside. There are no premade bot templates inside for easy bot making process as of now.  The customer support mechanism also needs some more work. But overall, comparing it with the features and the pricing of other available tools in the market, this deal is surely a good buy for any internet markets who use Facebook as a marketing channel.
Now, It's time to dive deeper.
Company Background
MobileMonkey was founded by Larry Kim in June 2017. Larry Kim is a well-known SEO/PPC expert who founded WordStream in 2007 and which further secured a 4M Series A and another 6M Series B in 2010. He is also one of the most popular authors on Medium with 191K followers. He has 788K followers on Twitter and 21K likes on his personal Facebook page, both are verified accounts.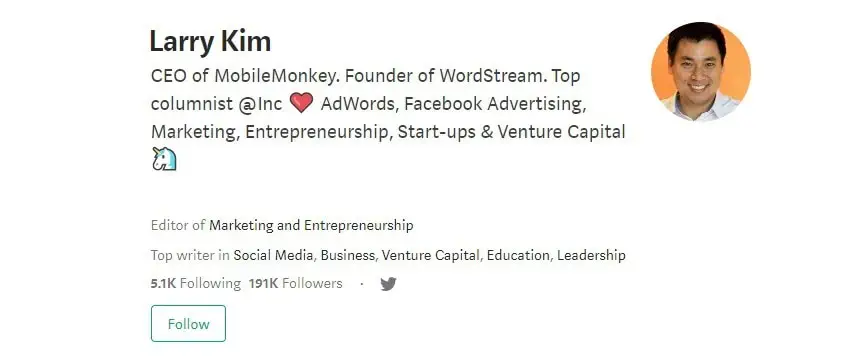 MobileMonkey is based in Boston, the largest city, and capital of Massachusetts. There are total 12 members in this team.
The domain mobilemonkey.com was registered on 14th December 2003 and it is guarded with Whois Privacy settings. The primary website and the dashboard is protected with Secure Sockets Layer (SSL)
Funding Report
As per available data on the Internet, MobileMonkey has raised $3.4M on 13 October 2017 as a seed funding.  Larry Kim, Jason O'Hare, and Yiwei Jiang are the three key members of this newly formed startup.
Social Presence
Being a social media tool, the team at Mobile Monkey is actively present on all major social media platforms. It has total 477 likes on Facebook, 1870 followers on Twitter and 1391 followers on LinkedIn. The last publishing activities recorded just a few hours ago on all these platforms.  It also has a YouTube tutorial channel with currently 64 subscribers
Reviews & Recognition
MobileMonkey is just a year old startup and probably they haven't started any major marketing activity yet. I think the biggest recognition to Mobile Monkey is it's founder's name, 'Larry Kim' who recently sold his very successful company WordStream, the world's largest PPC software company, employs 300+ people and manages Billions of dollars of ad spend on behalf of tens of thousands of customers.
It was posted ( but not featured) on ProductHunt 3 months ago but gathered only 5 upvotes ( including my and Larry Kim's upvotes 🙂 ) It appears that the team hadn't officially launched it on PH yet.
I couldn't find MM on public review platforms like G2Crowd or Capterra. Though Todd Jones of MainWP has reviewed it and mostly praised for its functional capabilities and ease of use ( in his 19th Jan 2018 blog post. )
Some of the major tech publishers like VentureBeat and Entrepreneur etc. have also featured MobileMonkey in their news articles.

Website Frontend DNA
Frankly saying, when I first visited the website, I thought it's some kids play school website. 😀 On the homepage, the first thing you will notice is lots of happy monkeys are playing around with robo- kids. 🙂
I certainly can't say it's very well designed but the website is fast, responsive, clean, clear and easy to navigate. The MobileMonkey website includes all the essential elements that a professional SaaS website should have, like Features, Pricing, About Us, Contact us, Support page etc. It also showcases a team page with the short bio of all their 12 team members.
Legal pages like Privacy Policy and Terms of Service page is also clearly included in the footer section. Though I couldn't find any direct info or link related to GDPR compliance.
Official social channels ( Facebook, LinkedIn, and Twitter) are clearly linked on their homepage. For instant support, they are using Facebook Messenger bot created using their own tool on their website.
While interacting with the website, one thing that irritated me a lot was the aggressively appearing subscription pop-up box. They must change some popup behavior settings for better user experience.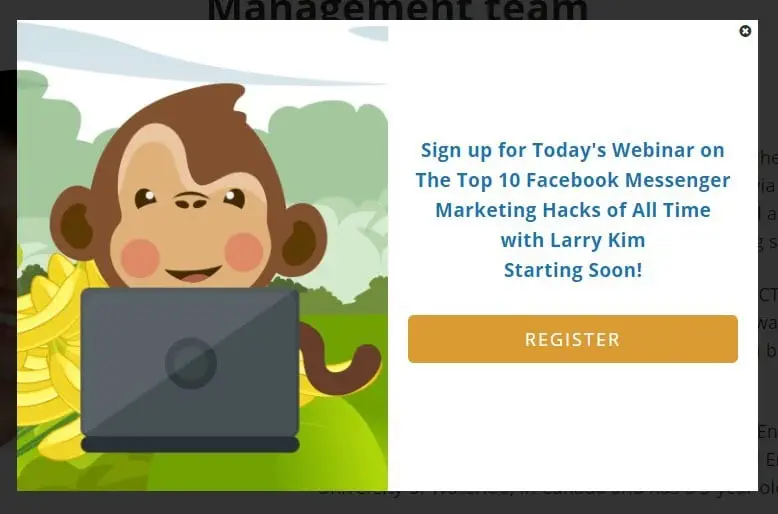 One more thing that's not very impressive is – in spite of listing or describing the features under the 'feature' page, they have uploaded an hour long youtube video walkthrough. Not everybody wants to spend an hour on a new tool, just to know what it can do.
Dashboard DNA/ User Onboarding
The user onboarding starts with a signup button in the center of the homepage. During signup, apart from usual questions, it also asks for company name, website, and the Phone Number. Unfortunately, filling all these fields are mandatory. I find it weird and it feels like completing a survey for,  especially the phone number part. All these extra steps make the onboarding process unnecessarily lengthier.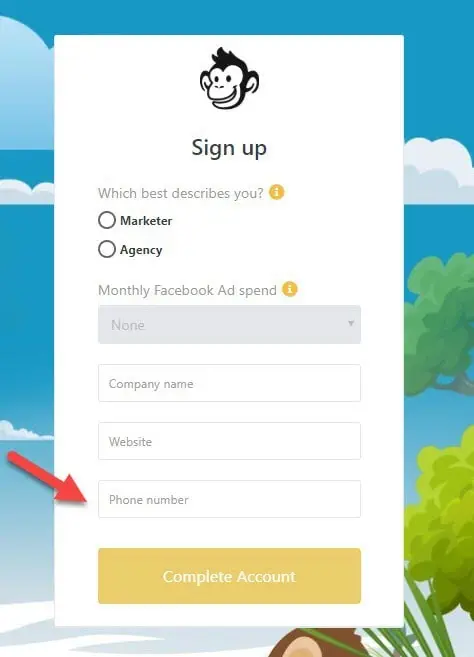 Once logged in, you will notice a completely blank dashboard with a yellow button at the top left. It says "create a blank chat-bot". Clicking it will show a new button called "Create a new bot". Click it again and then you will first see the fully functional dashboard for the first time. Have a look at this onboarding gif snapshot –
While clicking 'create a new bot' button, you will also notice an option to choose from templates. Don't get surprised to find no any templates displayed there. This will get populated with your own bots when you will create many of them under the same account.
Though I wish if they could have provided us some pre-made bot templates to get started easily. Mostly all other Chabot platforms do provide some pre-built bot templates.
This is how the admin dashboard looks –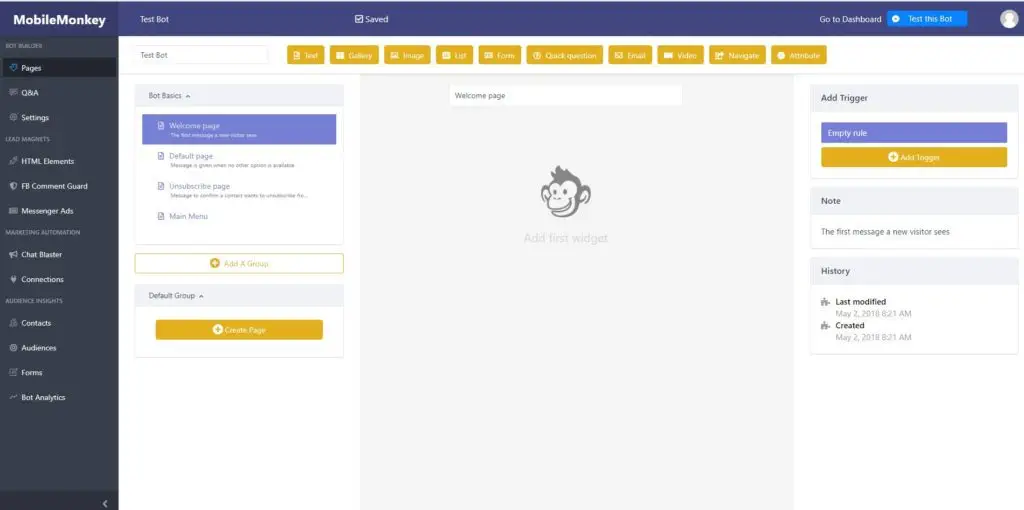 The first thing you should do after logging-in is to connect the platform to your Facebook account by selecting the 'setting' option. You will be able to explore this platform better and with full potential only after doing this. Else an authentication request popup will keep irritating you till you do it. 🙂
This dashboard can be too overwhelming if you have never ever created any bots even on any other free or paid platforms. But once you understand it, it will become easy and fun to create bots. I do miss step-by-step user-guiding walk-through inside. So, I highly recommend you to go through the video tutorial series listed here – https://mobilemonkey.helpdocs.io 
After setting up the bot-basics and some other functionalities, you can test your first bot by connecting it with any of your FB pages ( from setting sections) and then clicking 'Test this bot' from top right.
One thing I miss here – is the ability to preview bot flow in the same dashboard tab. Whenever I make any changes to the bot, I have to open the messenger to test it out. There is a room for improvement for sure if MobileMonkey developers are reading this.
Noteworthy Features
This is the most exciting part of Mobile Monkey. No matter how funny the homepage looks, no matter how ordinary the dashboard design seems, MM is absolutely awesome when it comes to the features.
Apart from creating a fully functional messenger bot, it also provides features like Facebook comment guard, live takeover, website Chat widget, email widget, web-hooks, Zapier integration, message blaster, Facebook messenger and NLP triggers etc.
While creating the bot, You can use options like adding Text, Gallery, Image, List, a Form, Typing, and a Quick question. You can also "Add Trigger" feature to interact with the user.
To prevent bots from the accidental delete. They have included this security feature where you need to type 'DELETE' to perform bot removal.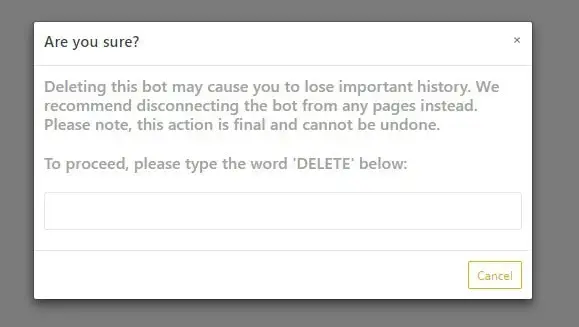 Under the HTML element feature, you have three options to collect leads. You can enable intercom like chatbox on your website, link directly to a specific page in your bot or collect contacts from existing subscription box on your site using checkbox plugin.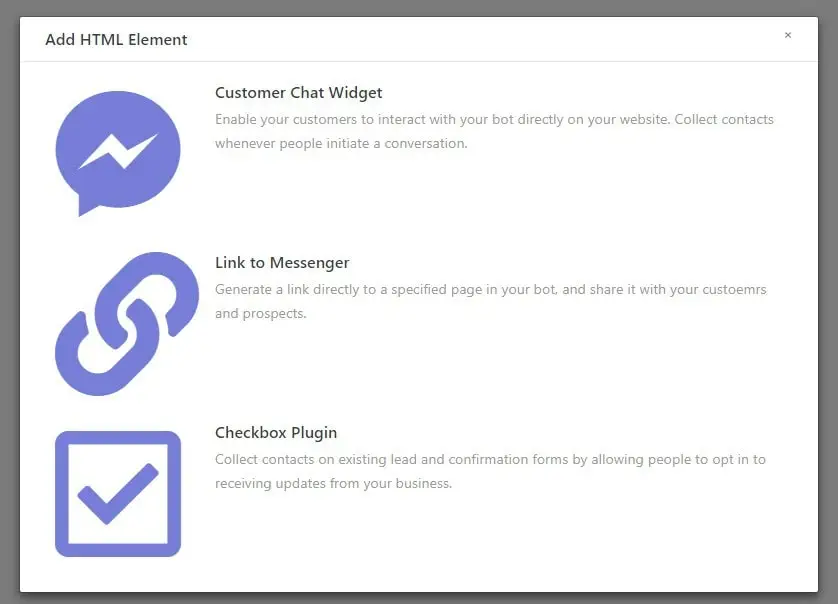 Here is the customer chat widget demo:
And here is the checkbox plugin demo, which these guys are using with their sign-up form
Another cool feature is Post comment guard, using which you can easily grow your Messenger opt-in list by setting opt-in message for anyone that leaves a Comment on your Facebook Posts or Boosted Posts. Here is how it looks –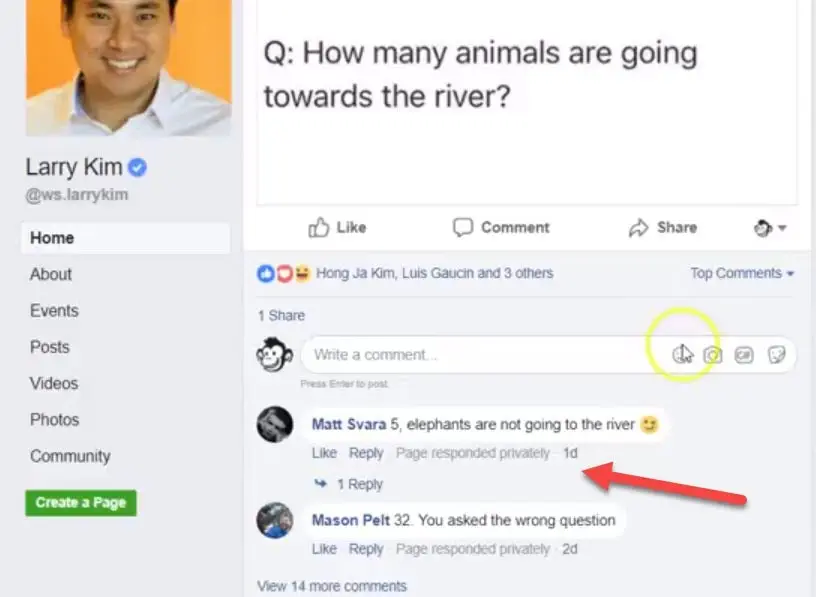 Using all these features, you can collect leads which will get listed under the contact section.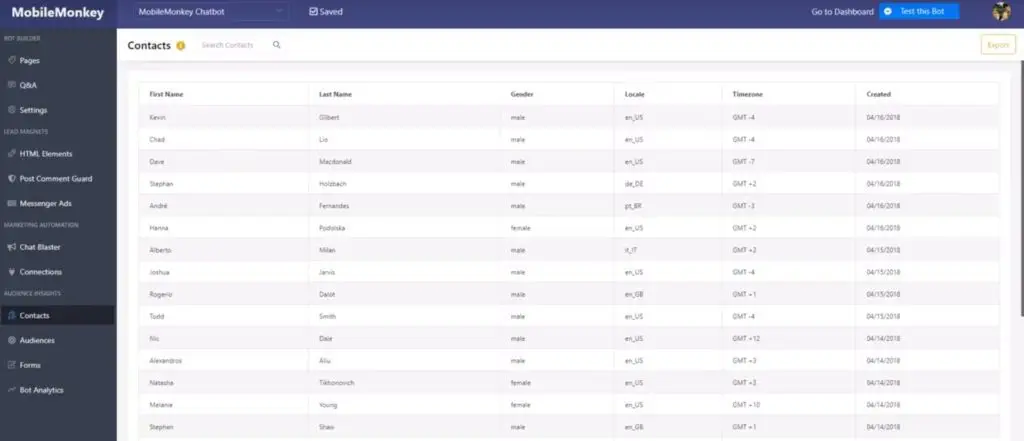 Setting up 'unsubscribe' option is also very easy. In fact, it is already set by default. All you need is to type 'unsubscribe' to remove a lead.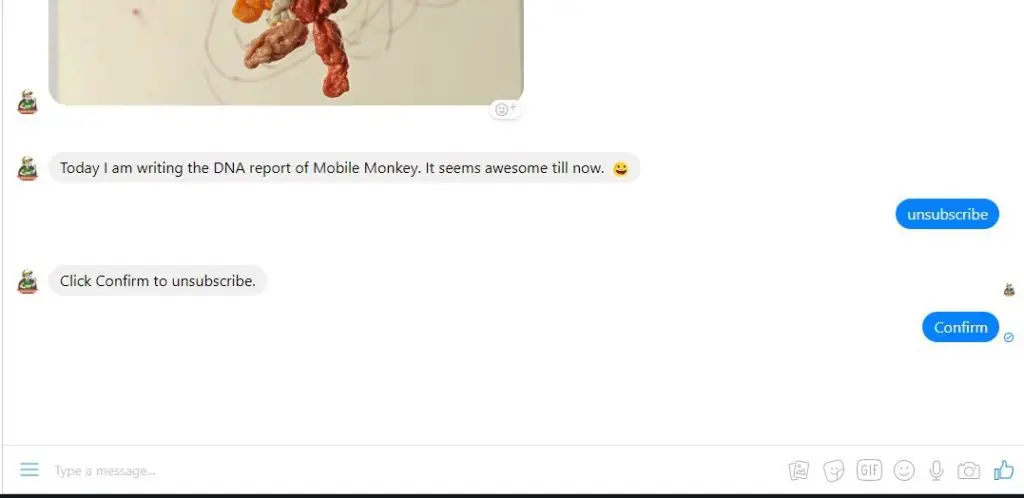 You can also use webhook features in the following use case scenario –
Use case#1: Export Emails collected by your Bot to your Email Service Provider (ESP) and begin automatic email campaign.
Use case#2: Send new MobileMonkey Contacts to your CRM (like Salesforce or Hubspot) for follow up by Sales Reps.
Use case#3: Send an SMS message with a phone # to a business owner when a Chat user requests a callback.  This works great for business owners that are working in the field – for example, Plumbers, HVAC, Landscapers.
Use case #4: Sign up registrations for a Webinar through a Chatbot and export the data to GotoWebinar and create a registration.
Use case #5: Connect with Zapier to further connect with thousands of other tools.
I highly recommend you to go through Documentation page first ( here – https://mobilemonkey.helpdocs.io ), read about basic steps and watch video tutorials. It will be easier to get a hold on this platform then.
Deal Analysis
First of all, let's look at the regular pricing structure of this tool. It is divided in three sections. 1. Free 2. Pro and 3. Team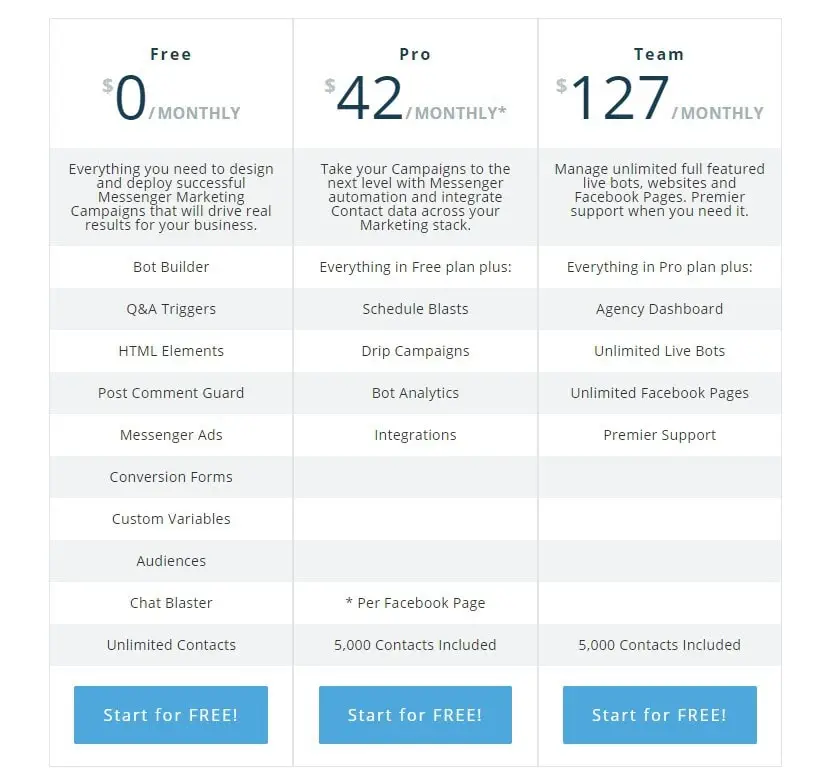 Free plan has all the basic features, but no Schedule Blasts, Drip Campaigns, Bot Analytics, and Integrations. It also comes with "Powered by Mobile Monkey" branding under the persistent menu of messenger bot. Though one major benefit of the free plan is that it provides 'Unlimited Contacts' option

Pro plan includes everything under 'Free Plan' plus Schedule Blasts, Drip Campaigns, Bot Analytics, and Integrations. But it can be used to connect just 1 Facebook page and can store and manage only 5000 contacts per page. You can also remove "Powered by MobileMonkey" branding in Pro and Team Plan.
Team plan gives you the ability to add multiple Facebook pages, agency dashboard and premium support along with everything that you will be getting with Pro Plan.
With AppSumo, you will get $42/month Mobile Monkey Pro plan just for $49
What's Included?
AppSumo $49 Pro Plan includes – 
Bot Builder
Q&A Triggers
HTML Elements
Post Comment Guard
Messenger Ads
Conversion Forms
Custom Variables
Audiences
Chat Blaster
Schedule Blasts
Drip Campaigns
Bot Analytics
Integrations
Connect one Facebook page up to 5000 contacts.
What's not included?
You can use just one active Facebook page, the biggest limitation of this deal.  Also, the number of contacts is limited to 5000 contacts per page. So, if you need more contact, you can buy it additionally –

I am hoping that they will give additional discounts to the sumo-lings for these contact slots.
Support & Documentation
You can contact the team via 'Messenger chatbot' placed at the bottom-right corner of the website and the dashboard. You can further mail them at support@mobilemonkey.com for technical support, bug reports etc.
You can also fill contact form from the documentation page here- https://mobilemonkey.helpdocs.io/
They also have a very detailed video tutorial for each of their features under the documentation section – https://mobilemonkey.helpdocs.io/
Having an automated bot interface, messenger chatbox isn't really a great option for technical support related queries. Support email and contact form options is satisfactory but slow. I wish if they could have an instant intercom type chat option or a proper support forum where we can ask our queries and also check previously resolved queries all at one place.
Competitors
There are many competitors in this zone. Big names like Chatfuel and Manychat are fully stable, feature-rich and free for basic uses but when it comes to their Premium plans. It is very costly.
Chatfuel PRO Plan starts at the monthly price of $30 per bot/page, which includes up to 1,000 reachable users, while Manychat will cost $45 per month to manage 5000 contacts.

There are a few contemporary competitors as well.  Zoconvert is feature rich and has many similar features.  Botletter is simple, easy to use and stable, but when in terms of features, MobileMonkey is a clear winner here.
Roadmap
There is no public roadmap available as of now.
Mobile Apps/Extension/Integration
There is no Mobile app or extension for this. It does provide Webhook option which you can further be used to integrate with Zapier, MailChimp and thousands of other third-party services. Read more about Integrations here – https://mobilemonkey.helpdocs.io/article/5hfyly47aj-connects-and-integrations
Frequently Asked Queries
1. Is this deal stackable?
There is no such need. You can always go with Team plan which includes everything.
2. Will there be any 'Powered by MobileMonkey' branding?
Nope.
3. Is there the custom-domain option?
Well, there is no front-end interface to be displayed to your users. So, there is no custom domain need.
4. Is this tool GDPR compliant?
As per AppSumo team ( in a response to a question on the deal page), it is fully GDPR Compliant.
5. Is there a public roadmap of this tool available?
No roadmap available till now. But being a new tool,  they should have it.
6. Are future updates included in this deal?
Yes! All future updates are included.
7. Is there any direct upsell?
Nothing as such. To increase your contacts list, you can buy more contacts if you need at a discounted rate.
8. Once upgraded to the higher plan, can we again downgrade to the lifetime AppSumo plan in the future, if needed?
No clear information on this.
9. Is direct live chat support included/available?
Facebook Messenger chatbot with real human support is available but it's not very effective.
10. Is this tool featured on ProductHunt?
Nope!
11. Was this tool ever on JVzoo?
Nope!
12. Is there SSL active on the website and dashboard?
Yes!
13. Is there any demo link or tutorial video for this tool?
You can see the demo of some features on the website https://mobilemonkey.com . You can also find all features demo on their documentation page here – https://mobilemonkey.helpdocs.io/
14. Is there any FREE plan or trial available for this tool?
Yes!
15. Is there any White-label option available?
There will be no 'Powered by Mobile Monkey' branding on the bots that you will create.
16. Is Zapier Integration available/included in this deal?
Using Webhook feature, you can connect bots with Zapier. Read more here – https://mobilemonkey.helpdocs.io/article/5hfyly47aj-connects-and-integrations
17. Deal Summary Snapshot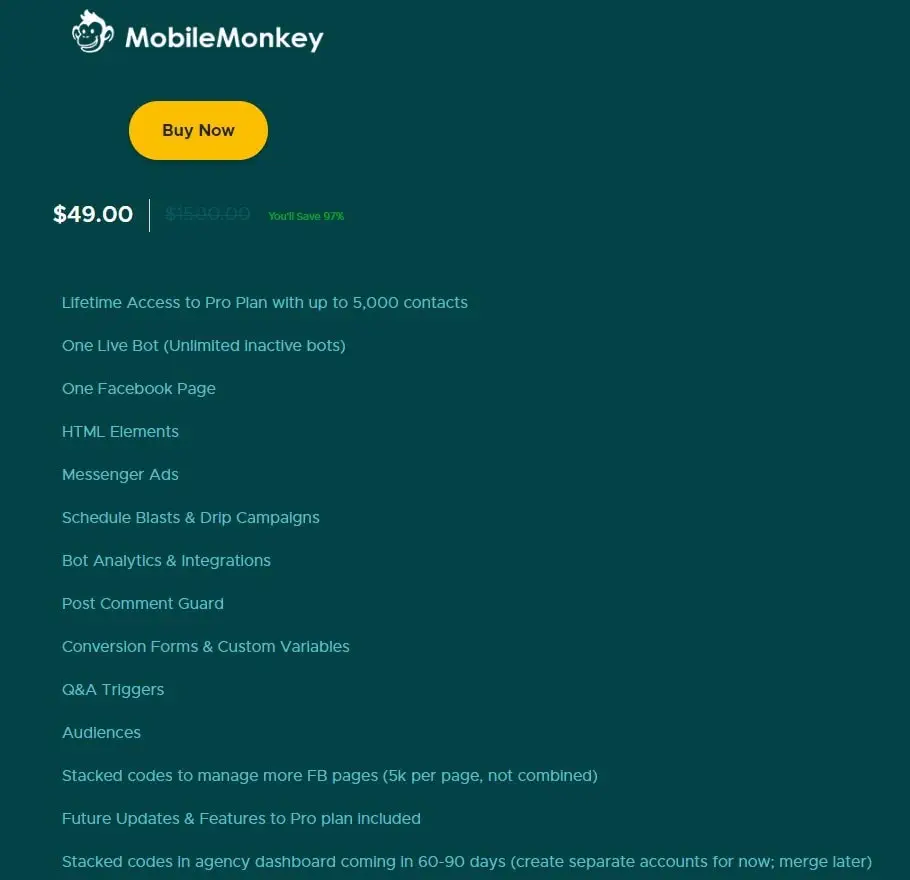 Conclusion
The main aim of this post is to make you aware of the all the possible information which are available online related to this tool so that you can make a well-informed purchase decision without investing much time into it. We share mere facts the final purchase decision will always be yours
Note: This DNA report is not a static blog post that can not be changed. So, I need your help to make it more accurate, updated and valuable by adding your queries, comments, and suggestions below. We also encourage you to write your own experience in the comment section once you have purchased and used this tool.
Cheers.
Facebook Comments