Docsify is primarily an in-depth email tracking tool for Gmail and G-suite. Apart from advanced email tracking, it also provides engagement scoring and tracking, flexible sales automation, content analytics, Team productivity tracking and many more things.
AppSumo has recently launched a lifetime deal on Docsify for just $49 one-time payment.
Under this post, we have gathered all essential insightful information that will help you make a right purchase decision.
History
Docsify was founded by Max Makarenko in May 2016. He is currently the CEO of this company. Later, Vitali Haiduchenko joined him as a Chief Strategy Officer in March 2017. They are based in Tallinn, the capital and the largest city of Estonia. There are total 14 members in their team.
The domain Docsify.net was registered by the current team on 21st December 2016. The domain is guarded with Whois Privacy setting.

The primary website and the dashboard is protected with Secure Sockets Layer (SSL)
Funding
Docsify is a bootstrapped company and there is no known funding report available online.
Online Reviews
Docsify was featured on ProductHunt on 22nd January 2018. It received 719 upvotes and 46 positive reviews. It was also featured on Betalist on 23rd May 2017.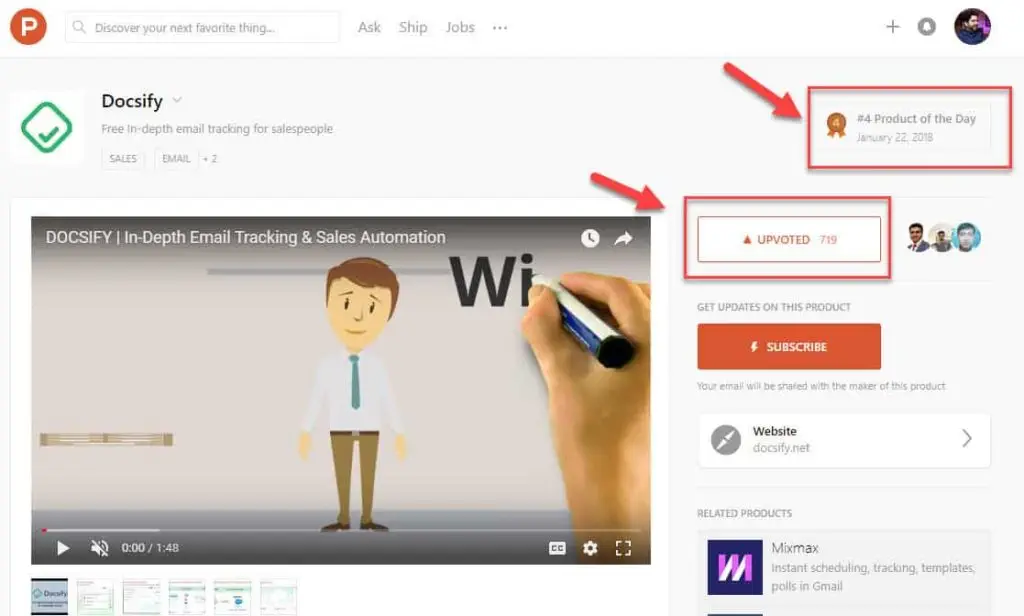 On G2Crowd, Docsify received 4.8 out of 5 stars from 6 reviews while on Capterra, it received 5 out of 5 stars from 9 reviews.
Social Presence
Docsify is officially present on all major social media platforms. It has total 234 likes on Facebook, 28 followers on Twitter and 59 followers on LinkedIn. Though, the team doesn't appear to be very active on social channels though. The last post published on Facebook was on 22nd January 2018. On Twitter, the last tweet was made on 23rd January 2018 while on LinkedIn, the last publishing activity was recorded 5 months ago.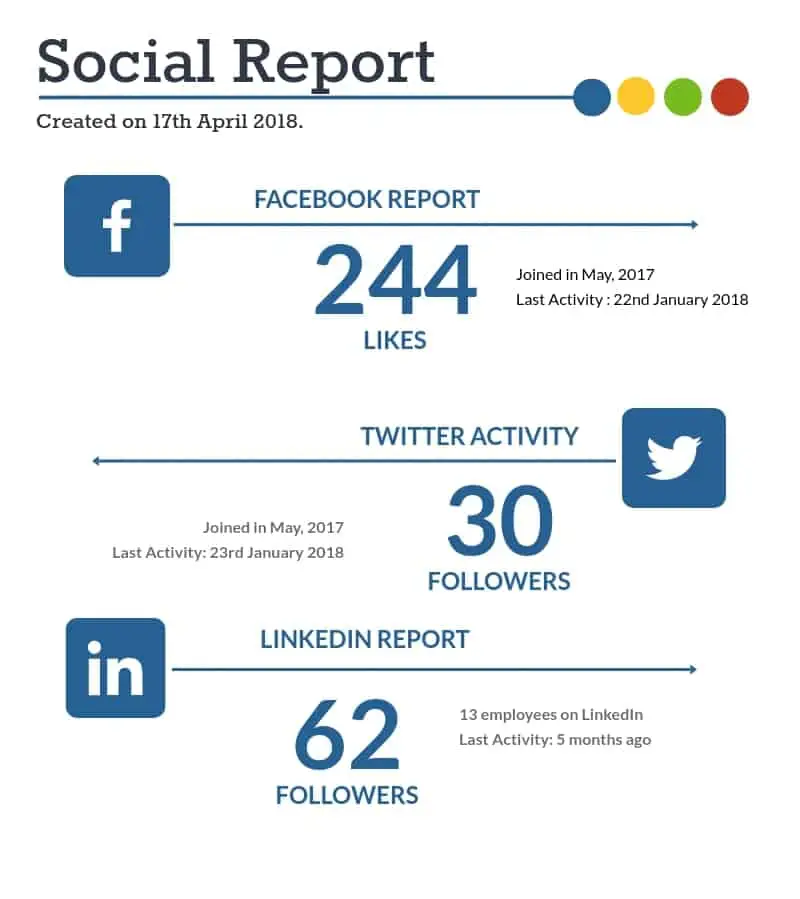 Docsify also has a YouTube channel with 45 subscribers and contains 13 tutorial videos.
Frontpage DNA
The website looks sleek and modern. It is well-designed, fully responsive, fast and has maintained brand-consistency in color and design elements everywhere.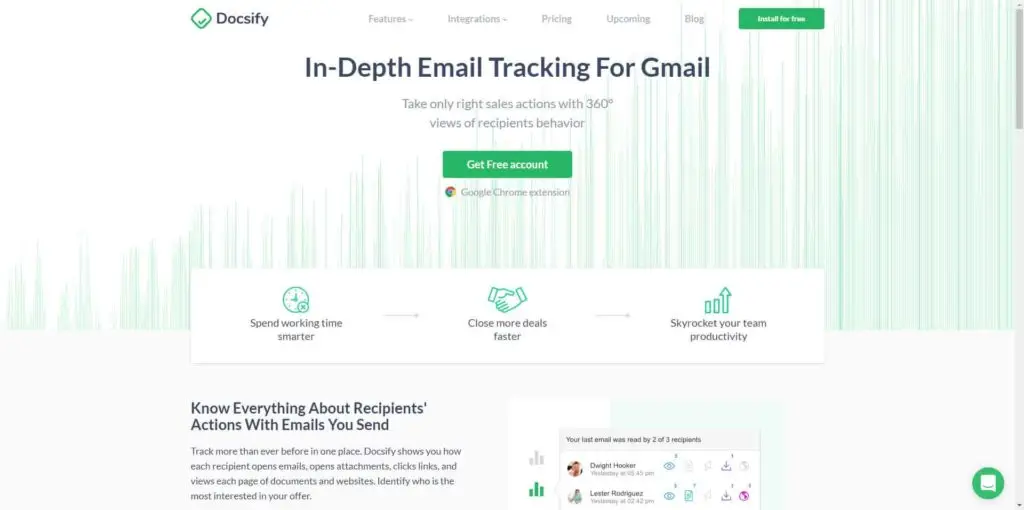 The Docsify.net website includes all the essential elements that a professional SaaS website should have. It displays separate pages for features, integrations, blog and pricing section. Official social channels ( Facebook, LinkedIn, and Twitter) are clearly linked to their homepage. It also showcases their future roadmap on a separate page called "Upcoming".
Legal pages like Privacy Policy, Terms of Service and GDPR compliance page is also included clearly in the footer section.
Though I couldn't find the 'About Us' or 'Team' section on the website, which most other SaaS websites must have.
Onboarding Experience
Once you install and authenticate Docsify with Gmail, an overlay help file will guide you through various ways, Docsify is going to help you inside Gmail. This is pretty clean and self-explanatory.
There is a Docsify icon on the top right, you can click this to visit the Docsify Admin Dashboard ( https://app.docsify.net )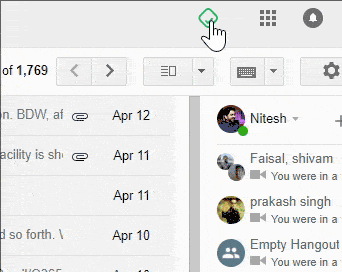 Deal Redemption Process
The deal redemption process is very easy and straightforward. Once you buy this deal from AppSumo. You get an email with a precise deal redemption steps.
Here is the flow:
1. You first need to visit https://docsify.net/ and then click 'Get Free Account' on the homepage. It will download a 'Google chrome extension' on your device.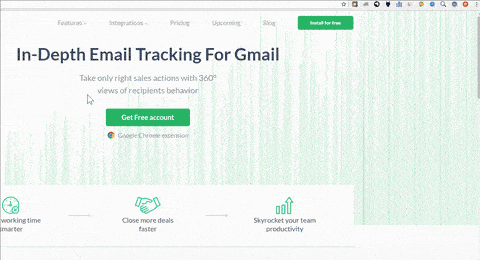 2. Open your Gmail Inbox. You will be we see an overlay screen asking you to active and authenticate 'Docsify' with Gmail.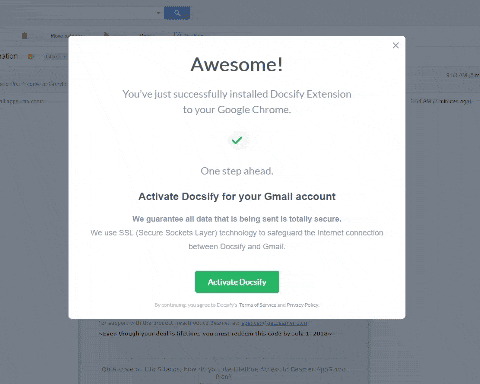 3. Go to this link – https://app.docsify.net/a/0/settings/billing/appsumo, enter your AppSumo code here and then click 'Submit'. You will notice a confirmation popup on the top-center of this page.
4. You can further verify your redemption status by signing in to the Docsify dashboard here – https://app.docsify.net/a/0/dashboard and then click- setting on the left and then billing. It will show 'AppSumo Pro' or 'AppSumo Growth' as the current plan based on the number of codes you stacked.
Noteworthy Features
The most basic feature of this tool is to track your emails in the most efficient way possible. When composing an email, it gives three things to track. There is an option to schedule emails as well. The email activity will appear in both Gmail and in Docsify.
This tool also has a feature to add attachments directly in the body of the email and hence it increases the chance of getting higher documents open rates.
One of other very cool feature is to be able to add your own chat tools like ConvertFox, Intercom or Crisp to your documents so that you can directly connect with the person when he/she is reading your doc.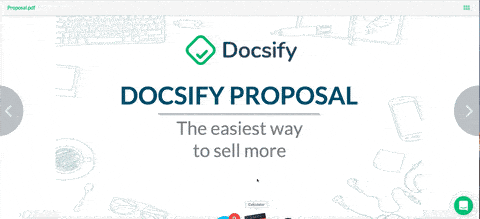 Also, you don't have to use any other link shorteners tool like PixelMe to add tracking pixels to retarget prospects with Facebook or Google Adwords. It is already a built-in feature of this tool.
The branding option is also very useful where you can set your control panel color, the color of elements and add your brand name in your document URL.
For advanced users, it also gives API and webhook option and has integration with Zapier. One less talked about option is "Auto-BCC to CRM" where you can set a BCC email so that the email that you send from Gmail/ Gsuite will automatically appear in your CRM
Deal Pricing
First of all, let's look at the regular pricing structure of Docsify. ( Click the image to see it in lightbox )
There is two deal pricing here.
One is called "AppSumo Pro Plan" and other is called "AppSumo Growth Plan". Both plans are a better version of general Pro or Growth plan available directly from the website.
What's Included AppSumo Pro Plan:
Unlimited email & link tracking
Unlimited document and attachment tracking
Templates, Snippets & Analytics
No Docsify branding
Branding domain
Integrations: Zapier & Live Chat
Document remarketing
Unlimited send later
Sequences (Up to 300 unique recipients/month)
All future updates of general Pro Plan
What's not included in AppSumo Pro Plan:
Team Analytics
Unlimited Sequence Analytics
API & Webhooks
Engagement Hooks
Precise Remarketing Shot
Template Sharing
Pipedrive Integration
Auto Follow-Ups in Gmail
Future updates to Growth Plan
What's included in AppSumo Growth Plan:
Everything that is included in AppSumo Pro Plan
Team Analytics
Custom Domain
Unlimited Sequence Analytics
API & Webhooks
Engagement Hooks
Precise Remarketing Shot
Template Sharing
Pipedrive Integration
Auto Follow-Ups in Gmail
Future updates to Growth Plan
What's not included in any AppSumo Plan but offered by this tool otherwise in their highest tier plans. ( called Ultimate Plan )
Deep Salesforce Integration
Team Insights
Advanced Scoring
Templates & Sequences insights
Content Insights
Sequences sharing
Documents sharing
Dedicated account manager
Consulting
SLA
Priority support
Note: The ultimate plan is a custom plan that includes human service as well and hence there is no fixed pricing for this plan
Kindly note that there are two confusing terms used above.
1. Branding Domain and
2. Custom Domain.
Branding domain is actually a custom username that you can set as a subdomain to docsify.net ( for example https://brandname.docsify.net/ ) while the 'custom domain' can be your actual domain or subdomain without any mention of Docsify in the URL ( for example https://subdomain.brandname.com )
Roadmap
Docsify is very transparent about there future roadmap and has clearly shown it on their official website under 'Upcoming' section.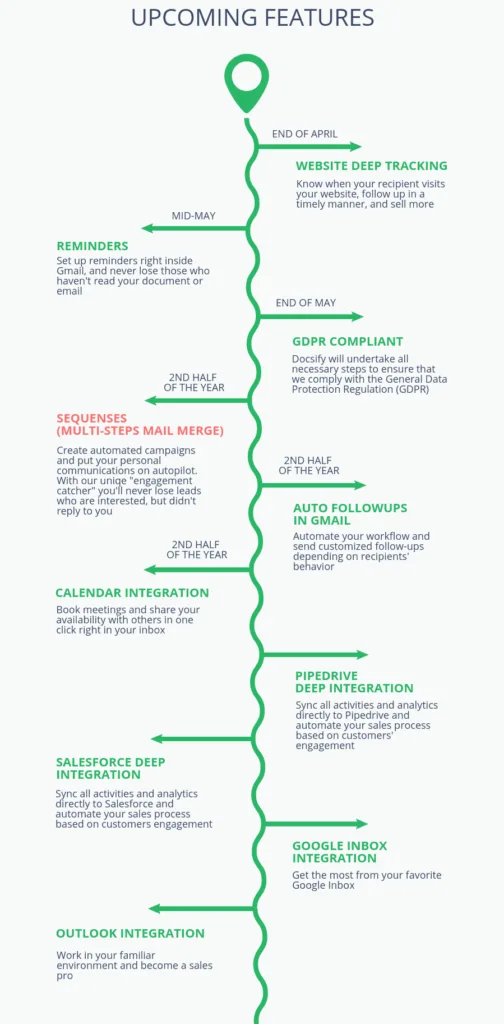 They also have a Trello roadmap which is more precise and regularly updated based on the various feedback they received from their users. Here is the link to the Roadmap – https://trello.com/b/08nHqwTZ/docsify-roadmap 
Frequently Asked Queries
1. Is this deal stackable?
There is no stacking option as such. Though if you stack two codes, you will get 'AppSumo Growth Plan', which also includes 'custom domain functionality'
2.Will there be any 'third party branding' while using this tool on the front end?
No! there will be no 'docsify' or any other branding on the front end.
3. Is there the custom-domain option?
For AppSumo Pro plan, there is NO custom-domain functionality but for 'AppSumo Growth Plan' includes 'custom domain functionality.
4. Is this tool GDPR compliant?
Yes! ( Fully compliant till May 2018)
5. Is there a public roadmap of this tool available?
Yes, you can visit public roadmap here – https://trello.com/b/08nHqwTZ/docsify-roadmap
6. Are future updates included in this deal?
Yes! For 'AppSumo Pro' plan, all the future updates of the regular Pro Plan' and for the AppSumo Growth Plan, all the future updates of 'Regular Growth Plan' is included.
7. Is there any direct upsell?
Nope! There is no visible upsell. The deal appears to be complete in itself.
8. Is direct live chat support included/available?
Yes! Direct Intercom chat support is available and included in both plans.
9. Is this tool featured on ProductHunt?
Yes! here is the link: https://www.producthunt.com/posts/docsify-4
10. Was this tool ever on JVzoo?
Nope!
11. Is there SSL active on the primary website?
Yes!
12. Is there any demo link or tutorial video for this tool?
Yes! There is an official YouTube channel of Docsify with all required tutorials and information. Click this link to visit the YouTube channel.
13. Is there any FREE plan or trial available for this tool?
Yes! There is a FREE plan with basic features and it also includes the free trial for their GROWTH plan for the first 14 days.
14. Is there any White-label option available?
Custom-domain option is available for the 'AppSumo growth plan' and hence it is equivalent to 'White-label' option ( but needs two codes )
15. Is Zapier Integration available/included in this deal?
Yes! Zapier integration is available and included in this deal.
16. Deal Summary Snapshot

The main aim of this post is to make you aware of the all the possible information which are available online related to this tool so that you can make a well-informed purchase decision without investing much time into it. Please don't expect any personal opinion or some star rated reviews from us. We share mere facts, the purchase decision will always be yours.
It takes a lot of time and efforts to collect all these data and then present them in an insightful format here. So, if you are willing to buy this deal and the above-written DNA report has helped you in any possible way, you can support this site by clicking 'GET THIS DEAL NOW' button below to buy this deal.